Earlier this month, Everybody Soccer, a website dedicated to following American goalkeepers, published an article ranking the 50 Greatest MLS Goalkeepers of All Time.
No. 1 Soccer Camps was pleased to find SIX of the top TEN MLS goalkeepers are part of the No. 1 Soccer Camps family as former campers and/or coaches, and and four others round out the 50.
Top 10 GKs of All Time by Everybody Soccer
 1 Kevin Hartman (416 Games, 1997-2012)***
 2 Nick Rimando (424 Games, 2000-present)***
 3 Jon Busch (309 Games, 2002-2015)***
 4 Pat Onstad (223 Games, 2003-2011)
 5  Matt Reis (293 Games, 1998-2013)***
 6 Joe Cannon (342 Games, 1999-2013)***
 7 Zach Thornton (282 Games, 1996-2011)
 8 Tony Meola (250 Games, 1996-2006)***
 9 Scott Garlick (237 Games, 1997-2006)
 10 Tim Howard (102 Games, 1998-2003, 2016-present)
Additionally,
16. Bo Oshoniyi (109 Games, 1996, 2000-2006)***
20. Kasey Keller (93 Games, 2009-2011)***
23. Brad Friedel (38 Games, 1996-1997)***
30. Mark Dougherty (123 Games, 1996-2001)***
***Denotes No. 1 GK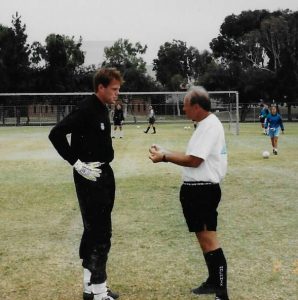 No. 1 Soccer Camps has a long history with the MLS and US Soccer. No. 1 Soccer Camps founder Joe Machnik was an Assistant Coach for the U.S. National Team 1990 World Cup team as well as being a FIFA/CONCACAF Match Commissioner and being inducted into six Soccer Halls of Fames.
No. 1 Soccer Camps Regional Director Greg Andrulis is the former head coach of MLS' Columbus Crew.
Our coaching staff has experience at every level of American soccer from high school to collegiate D1, 2, and 3, to Major League Soccer and the US National teams.  For over 40 years, No. 1 Soccer Camps has been training generations of quality goalkeepers and field players across the United States.
To learn more about No. 1 Soccer Camps and to locate a site near you, visit our website at www.No1SoccerCamps.com.