The game of soccer continues to evolve and so too has the No.1 Soccer Camps. For over 40 years the No.1 Soccer Camps has been revered for its incredible staff, a cutting edge methodology and forward looking curriculum. We have been, and continue to be, at the forefront of the soccer camp industry. As the soccer landscape in our country continues to take shape it's important that we provide our participants with the tools, knowledge and competitive edge required to be a successful player.
In 2019 we have formatted our weekly camp offerings to be reflective of the current trends, methods and coaching demands for today's player. US Soccer has identified six Key Qualities to look for in a player's development. We will explore those qualities and introduce you to the necessary skills to have an enjoyable and formative soccer playing experience.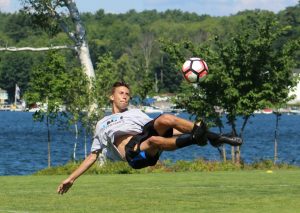 Our New No.1 Elite Training Camp is designed for the High School aged player and combines the best of our Senior Academy and College Prep programs under one week. High School aged players can be looking forward to making the varsity or moving up to the highest team within their club. This aged player is also looking forward to the preparation needed to perhaps play college soccer. Our No.1 Elite Training Camp is poised to prepare competitive players for the next level. Dynamic field sessions led by our professional staff of coaches will prepare you both on and off field for what awaits you next in your soccer career.
 At the No. 1 Elite Training Camp, players will be exposed to the 3 moments of the game; attacking, defending and transition at a deeper level, so they can be successful playing in the modern game.
Competitive tournaments will be played throughout the week, and will be the highlight of our evening sessions. Players will have the opportunity to compete against other teams (World Cup), against other players (Dutch) and against themselves (Pressure Training).
Staff Coaches at the No. 1 Elite Training Camp will share their knowledge and passion for the game on and off the field.  After our evening sessions, players will meet with their Staff Coaches to review the day's events.  In addition, High Performance discussions led by our staff coaches and guest speakers occur throughout the week.  Topics will be relevant to the development of the modern player and include, "Playing Soccer in College"," Behaviors for High Level Players", "Nutrition", and "Soccer Specific Conditioning.
At the No.1 Elite Training Camp, goalkeepers and field players will receive the incredible quality of training and a truly unique week of camp that has been the hallmark of the No.1 Soccer Camps for over 40 years.
No.1 for a reason!