GET READY FOR A SOCCER SUMMER TO REMEMBER!
Your time at No. 1 Soccer Camps is going to be one of the most memorable of your soccer career. You'll work hard, learn from professional coaches, improve your game, and meet like-minded soccer players. In order to maximize your time at camp, we have put together some pertinent information to help you prepare and pack for your No. 1 Soccer Camps experience.
Preparing for Camp
Prior to the start of your camp you will receive a detailed information sheet from your Regional Director that is specific to the site that you are attending. If for some reason you do not receive this information within two weeks of the start of camp, please contact your regional director directly. Their phone numbers and email addresses are listed on our website and individual site pages. Please also note that the contact number on our website (571-428-8387) is for our national office in Virginia and can be used if you are unable to reach your RD directly. Please feel free to contact us with any questions.
Youth Academy Camps
Your Regional Director will provide you with detailed information concerning the specifics regarding the Youth Academy Camp schedule, check in, location and other important information.
Residential Camps
Your Regional Director will provide you with the time and location for the first day of camp check in prior to the start of camp.
Medical and Camper Profile Forms
The Medical Form must be completed by a parent and your physician. Physical exams conducted for the 2016/17 school year may be attached to our Medical Form provided all necessary information is provided. It is imperative that you remember to bring your medical form to camp. Please note that you cannot participate at camp without a completed Medical Form.
The Camper Profile Form must be completed by the player and/or a parent. The picture is important and will help us to get to know the campers quickly at camp. The camp directors and staff coaches will use the Camper Profile Form as an aid in placing the camper in the right group and in maximizing their camp experience. Please bring the Camper Profile Form along with your Medical Form to camp. For all camper forms, go to our website at www.no1soccercamps.com, click on FYI, Players, then click on Prepare For Camp or simply click the links above.
Roommate Requests
All roommate requests will be honored to the best of our ability. Be sure to list your roommate choice during the registration process. If for whatever reason the roommate dynamics are not working out between campers, it is important that campers let our staff know. If a camper is uncomfortable telling someone, then they should have their parents call. Things are sometimes simple to fix.
Packing List: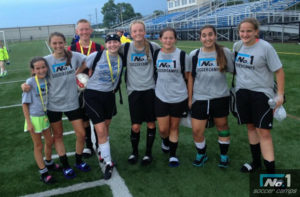 • Soccer Ball
• Soccer Socks
• T-Shirts (NO tank tops)
• Soccer Shoes – it is NOT a good idea to bring new shoes to camp.
• Indoor Training Shoes (Sneakers)
• Shin Guards
• Warm Up
• Bathing Suit
• Equipment Bag
• Water Bottle
• Sun Screen and Bug Spray
• Note Book and Pen
* Personal Items
• Sandals/Flip Flops
• Towels
• Pillow and Bed Sheets – for twin size bed – residents only
• Blanket/Sleeping Bag – residents only
• Toiletries
• Goalkeeping gear including gloves
Commuters – First Day of Camp
Campers who are not staying overnight should arrive at the assigned time provided to them by the Regional Director. Dinner will be the first meal. The regional director will provide you with the time and location that your commuter should be dropped off and then picked up at the conclusion of the day. Lunch and dinner will be provided daily. We will have a location in the dorm where our commuters can relax between sessions and store their belongings.
Residents – First Day of Camp
Registration is generally between 12:00 pm and 2:00 pm on opening day at a specified location. Your Regional Director will send you exact times and locations. Once on campus, signs will direct you to the exact location for registration. The first field session is scheduled for early afternoon. Dinner is the first meal of the day, followed by a second field session. The evening lecture concludes the day's events followed by lights out.
Room Key Deposits
Most residential campers are required to submit a key deposit at the time of check-in. Deposits can be made in the form of cash or checks and will be returned to campers on the last day of camp at check out when the room keys are returned to us. Please make checks payable to No. 1 Soccer Camps. It will save you time during check-in if you have a check ready.
Creating Groups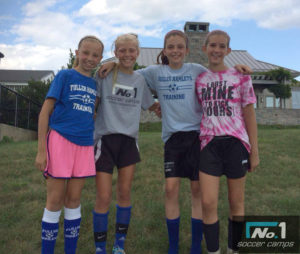 Campers will be initially placed into groups based on the program that they have enrolled during registration. During the sessions on the first day, campers will evaluated on their ability, throughout the week there will be continued evaluation as the program progresses.
Please know that the staff is very aware that friends come together and want to stay together in the same group. Groups and teams that signed up together will work together. As other groups are established, the staff may not know exactly which campers are friends and want to train together.
Campers will be asked several times – "Is there anyone who has been separated from their friends – does anyone want to move for any reason?" This is an important question, and we take it seriously. Groups can be adjusted – friends can and should play together – this is part of the whole camp experience. If a camper does not feel right in his group for whatever reason, please let us know. PLEASE tell your camper to speak up – we want to hear what they have to say. Sometimes they need to call home and have their parents contact us for them…that's okay too.
Last Day of Camp
Camp will conclude after the morning field session on the last date of camp. Specific times will be provided by your regional director. At that time, campers will receive their personal detailed evaluation forms from our coaches. Lunch will not be served. Campers can be met on the field or at their dormitory. There is no formal closing meeting with parents. Parents wishing to do so may meet with the Directors, Staff Coaches, and Trainers on the field at the end of the last session. All campers must be promptly picked up at the conclusion of camp. We will have them as ready as possible for you. Due to our national sites, many of our staff are moving onto another site and will also need to depart camp promptly.
If you have any additional questions, please feel free to contact your Regional Director directly. We look forward to seeing you in a few weeks!

No registered yet? Register Today!
No. 1 Soccer Camps was founded by Dr. Joseph Machnik in 1977. Since then, over 100,000 soccer players and coaches have attended No. 1 Soccer Camps and countless alumni have gone on to playing and coaching careers throughout the national and international soccer ranks. No. 1 Soccer Camps currently offers programs for every level of field players and goalkeepers with residential and day camps at twenty-five locations across the country.