Learn To Fly at No. 1 Soccer Camps
Incredible goals and acrobatic finishes have captured the imagination of soccer players and fans since the inception of the modern game. From Pele to Marco van Basten, Luis Saurez toWayne Rooney, these spectacular moments have turned great players into legends. Diving headers, scissors kicks and even overhead bicycles kicks have inspired generations of young players. They have spent countless hours on soccer fields, in backyards and parks and even in living rooms the world over, attempting (and usually failing) to complete a successful "bike." Even the occasional broken lamp and bump on the head has not deterred players from practicing these experimental techniques just for that one opportunity to become immortal, even if just in the eyes of their teammates.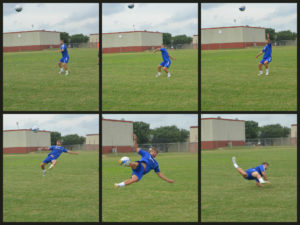 No. 1 Soccer Camps has been teaching the Art of Flying for decades. We have always encouraged repetition as part of our philosophy and continue to provide our strikers with the opportunity to score one thousand goals during their camp experience. Many of those scoring opportunities come during our crossing and finishing lessons. Our expert coaching staff provides step by step instructions, starting with very basic body movement and slowly progressing to a full speed finishing.  Our lessons are scaffold-ed from simple to complex to allow each participant to find their own level and build upon their current skill set.
First we teach proper body mechanics, starting each lesson safely on the
ground. We stress the importance of body control, core strength, mental focus and making clean contact on the ball. Players then move to their feet to hone their perception, coordination and footwork while adjusting to the flight of the ball. Finally, we teach our campers how to land safely, using their upper body and arms to cushion their landing. Of course, at the end of each lesson the campers always have the chance to then apply what they have learned in a live small-sided game.
The thrill of a diving header or the once in a life time bicycle kick will always lure players into unscripted practices. In fact, trial and error is critical for young players. We encourage self-teaching and hope that every player has the courage to use their imagination and try new things. That said, every technique still starts with fundamentals and repetition. At No. 1 Striker Camps, our methods safely teach advanced finishing in a controlled environment to provide our campers with maximum fun and success. We believe every player can learn how to fly.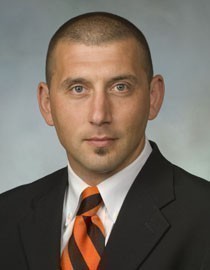 Nicholas DeMarsh is the No. 1 Soccer Camps Striker Director at our West Conn site. In addition, he just concluded his 13th year as the head coach of Buffalo State's women's soccer program in 2014, leading the Bengals to the SUNYAC semifinals for the second season in a row. DeMarsh, the 2010 SUNYAC Coach of the Year, has guided the Bengals to winning seasons in seven of the past 11 seasons and has a career record of 102-108-32.