Former No. 1 Camper and Staff Coach Jamia Fields Talks Camps, College and Becoming a Champion
Jamia Fields, a former No. 1 Camper and Staff Coach from with Alta Loma, CA, has been part of the No. 1 Soccer Camp family for over a decade. After eight years as a camper, Jamia returned to No. 1 as a Striker Staff Coach during her summer breaks from Florida State University.
At FSU, Fields had 14 goals and 30 assists during her career and led the Seminoles to four straight College Cup appearances. The forward finished her college career on top as the Seminoles won the 2014 NCAA National Championship with Fields scoring the game-winning goal in the 1-0 victory in the finals against Virginia.
In January, Jamia was drafted 14th overall by the
Boston Breakers
 for the NWSL. She and her Breakers teammates opened the 2015 preseason earlier this week with their first training session.
Jamia took a few minutes out of her hectic schedule to answer questions about her playing career, wining the National Championship, and her experiences with No. 1 Soccer Camps. She finished up with some sage advice for our campers.
How did you get started playing soccer and at what age?

My mom signed me up and I started playing at age 5.
How many years did you attend No.1Soccer Camps and what location did you attend?
I attended the
Claremont
location for 8 years.
Coming back for 8 years in a row do you feel you learned something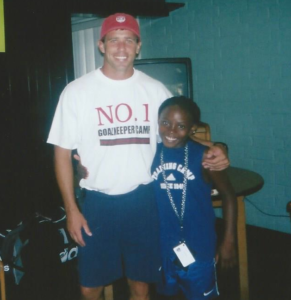 different each year?
Coming back each year I definitely learned something new. The activities and drills were difficult yet fun. Each year I came back eager to better myself. I also came back and worked as a staff coach for 2 years which was really great to be able to work with the players and see the other side of camp. Lot's of campers come back and become coaches. There is a lot of loyalty at the camp which I think is very important!
What is your favorite memory of camp?
My favorite memory was playing World Cup each year. I couldn't wait until after lunch when the teams were posted to see which team I was on and whom I was competing against.
As an elite player what 3 things do you think separated No. 1 Soccer Camps from all the other soccer camps out there?The evaluations are definitely what separate No.1 Soccer Camps from all the other soccer camps out there. The detailed evaluation of my performance at camp had everything in it to help me develop as a soccer player as I left the camp. The feedback I received in my evaluation wasn't vague. My coach for the week genuinely spent a lot of time on it with the goal to further my soccer skills.
The small groups were another aspect that makes No.1 Soccer Camps special. They allowed me to get one on one help to correct my wrongdoings during the different activities and have lot's of repetition. This was so important to me because some of the drills and skills were challenging like bending the ball and bicycle kicks; but with the personal attention it was easier to succeed at the task.
The atmosphere would be another aspect that definitely separated No.1 Soccer Camps from the others. Session to session, I had fun and constantly felt that the staff wanted me to further my soccer skills.
Over the years you have had the chance to work with some of the best coaches in the country. How would you compare the coaching staff at No.1 Soccer Camps?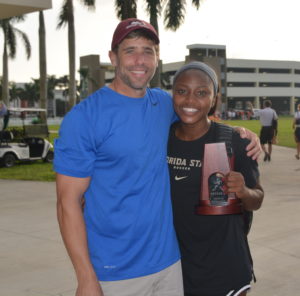 The coaches at No.1 are definitely top notch coaches  – in my opinion they are among some of the best in the country. The training sessions at camp were very good, and I felt like I was being challenged every session. The Camp Directors Mike Potier and Billy Gordon are so professional and knowledgeable about the game and it was displayed every year. And it was really great that the actual Camp Directors were at the camp and on the field at every session literally going around and helping and getting to know every player at the camp. The entire staff they provided year to year never failed to disappoint me.
Mike and Billy traveled to many of my games when they were close to them. Also, Mike made it to the College Cup this year for the entire weekend to witness us win the national championship. My point being that these coaches and staff at No.1 Soccer Camp care about your development and accomplishments apart from the camp. Years later, two coaches from a camp I attended when I was younger are still supporting me.
In December you scored the game winning goal in the NCAA Div I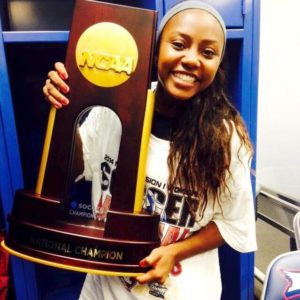 Women's College Cup for Florida State to give them their first Soccer National Championship. Can you describe that moment and feeling?
It was the 83rd minute and still 0-0 so I knew I had to take a shot if I got the opportunity. I cut inside and saw a small opening and took the shot and it went in. That moment is still pretty indescribable.
How did you end up at Florida State when you lived in California?
I was looking at schools in California too but since Mike was from Florida and knew the coach he advised me to look at FSU. He also contacted the Head Coach and recommended he come watch me play at an event in Florida. Then I went on a visit and the coaches, the team, the school in general just felt right. Initially I didn't want to go all the way across the country but I knew FSU would give me the best opportunity to develop my career and further me as a player after college.
You were just drafted in the NWSL by the Boston Breakers. What are you excited about starting your professional career?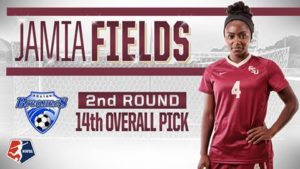 I'm excited to play at one of the highest levels in women's soccer. I think its going to be a good experience playing for a new coach and with new girls at a professional level.
What goals you are setting for yourself for the future?

I want to play overseas and hopefully get the opportunity to play for the USWNT.
What advice do you have for players looking to play at the collegiate level?
Dedicate time to work on your skills and fitness outside your organized team.
As you are searching for colleges, keep your options open and don't be close-minded. I didn't want to leave California, and ended up at Florida State going to 4 college cups in 4 years (something I could have never imagined).
Anything else you want to say to our campers and all of your fans out there?
I can honestly say that No. 1 Soccer Camps contributed my success in soccer. I recommend this camp to those who are looking for a camp, and if you have already attended, I advise you to return, you won't be disappointed. It's worth every penny!
Keep working hard, set goals, envision dreams for yourself and strive for them even when the path may be seemingly impossible.
For more information on No. 1 Soccer Camps or any of our 26 sites nation wide, visit our website at www.no1socercamps.com.