ESPA at No. 1 Soccer Camps provides a unique individual path for the serious soccer player. With the expertise of World Class Coaches Ruud Dokter and Hugo Perez, Coach Visser evaluates and identifies a route to fulfill your college and professional ambitions.
Throughout his 32 year career, Coach Visser has advised/counseled and guided thousands of student athletes in college, US Under 20 National Team and ODP. Among the players he has been able to help develop and guide are
Landon Donovan
as his Regional ODP Coach at U14 and Asst Coach US U20 Coach/ former US National Team and AJAX member
John O'Brien
.
Pictured here with his son Brian, Coach Visser developed a game plan with his son which is a good example of an individual roadmap excelling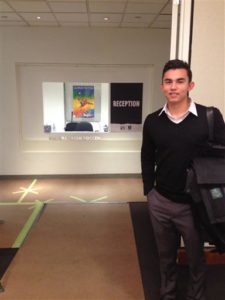 academically and athletically. Brian, captain of San Jose Earthquakes U18 Academy, graduated early from Vintage High School with honors a semester early in December 2011.
Brian enrolled at the University of San Francisco in the Spring of 2012 enabling him to ease the transition to College, academically, athletically and socially. Starting the Fall of 2001 with 20 college credits, Brian was able to have a successful Freshman Fall Campaign culminating in a WCC All Freshmen Selection.
Taking intersession and Summer school courses, Brian was able to receivea Bachelors Degree with Honors within three years graduating December 2013. In his Junior year, he sustained a season ending knee injury which accelerated the process of applying for internships. Although Brian is not playing as a professional player in MLS, his roadmap enabled him to start an internship with the MLS Competition Dept in New York in January of 2014.
For more information on how ESPA at No. 1 Soccer Camps California Maritime Academy  location can help you achieve your athletic and academic goals,
click here to visit our ESPA page.