THE MOST IMPORTANT DIMENSION OF THE GAME
By Regional Director Rob Andrulis
Famous Basketball Coach John Wooden once said "The most important thing in any athletic endeavor is the 5-inch playing field between your ears"
Since the founding of No.1 Soccer Camps back in 1977 the focus on teaching the game has been an emphasis on the 4 dimensions. The Physical, Psychological, Technical and Tactical components of soccer.
In this article we will focus on the most important Dimension!
We asked Founder and Recent US Soccer Hall of Fame Inductee Dr Joe Machnik his take on this and how he incorporated it into the His "Machnik Methodology "of training.
"When Dettmar Cramer did the first US Soccer Coaching Schools; he was the first to expose us to the four dimensions of soccer.
We all had a sense of the physical and technical but struggled with the tactical and psychological.
Among the psychological factors stressed were will power (he called it "fighting power") and mental toughness, ideas such as playing in pain (pressure training) and confidence to overcome adversity (early goal against, mistake by a GK, losing at half time)
I took those concepts and from my personal experiences as a goalkeeper developed a training method (if you will) which relied on the need to have those components to be successful. And an attitude for which they could work in the psychological intimidation of opponents. Cramer used to say: "The body says NO, but the mind says YES"
I used to love the comments by parents after camp which were more about the campers improved training habits, love for the game, recognition of intrinsic values, improved behavior around the game, higher level of confidence etc."
Fast Forward to the late 1980's
A young Goalkeeper named Jon Busch was attending cam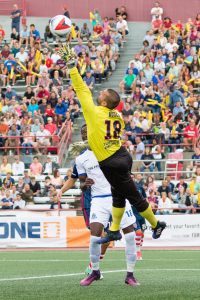 p and a few years later was asked to be on staff. Jon has had a storied playing career in college and in the professional ranks. It culminated with Jon being selected as the 2008 Major League Soccer Goalkeeper of the year!
We ask Jon to share is experience at No.1 Soccer Camps first as a camper and then as a staff member, and how the most important dimension influenced and molded him into the player he became.
"I think I went 2 or 3 years as a camper.  That would have been around 89-90.  I went to Pennsylvania first time, then CT second and if there was a 3rd year also would have been CT.  The following year is when Doc made me the "demo boy".  I did this for 2-3 years also.  First year was just on the east coast camps, Windsor CT, Philadelphia Pennsylvania, Atlanta Georgia.  The next year Doc flew me all over, Dallas Texas, Dayton Ohio, east coast, west coast, wherever he told me to go I did.  Back then we would train 3 times a day and lectures in the evening.  They taught us that to be successful in the game not only did you have to be physically tough but also mentally tough.  To be able to control your mind when your body wanted to give up, to keep working at your craft even when a mistake was made.  As I went into college and then the pros I took these lessons and applied them even more.  I never allowed myself to be outworked by anyone no matter if it was on the field or in the gym.  As a shorter goalkeeper I had to prove myself even more and be mentally tougher than any other goalkeeper because my height was always in question.  These lessons I learned made me a very focused, driven Goalkeeper.  I would not have had a 21-year pro career without these early lessons from No.1 Soccer Camps.
My impressions of Doc were that he was a goalkeeping god.  When he would show up and talk everyone was in awe.  We hung on every word he said.  He was the man when it came to goalkeeping at that time.  As I got to know him, and his wife Barbara I realized how much they cared for all their staff and campers and how we were like their family.  They are wonderful people and so caring.  They have a special place in my heart even to this day for the opportunity they gave me.  I am eternally grateful."
Jump Ahead to the modern day
Charlies Shanks was born in York England
and played soccer in England and Switzerland before moving to the USA. Charlie attended the No.1 Soccer Camps College Prep Performance Academy in 2015 at Western Connecticut State University in Danbury Ct. Charlie Currently plays High School Soccer for Litchfield High School in Litchfield CT. Charlie this past season played a pivotal role as the attacking Midfielder for his team and was selected All Conference first team and All State First team. Charlie also led the conference in goals scored last season and has become one of the conferences Elite Players.
We asked Charlie about his experience at camp and how the most "Important Dimension" has helped him continue to improve and excel at soccer and beyond.
"No.1 Soccer Camps helped me develop to the high school game tremendously. The physicality and quickness of soccer in high school and college means that being technically good is not enough.No.1 Soccer Camps caters to this because throughout the week, the training sessions focus on speed and fitness as well the skills-based part of the game and the mental side as well. One day we had a strength and conditioning coach come in and he did a clinic with us that improved our speed and running technique. As a player that relies more on my skill than speed, this clinic helped me bring another vital element to my game. This emphasis on speed also affected me mentally as it creates a mindset of playing quickly and sharpening my decision making."
"It is a tradition at No.1 Soccer Camps that one night every camp, everyone did pressure training. It is basically a series of one-minute stents which are physically challenging and exhausting. As the night goes on, the intensity does not drop but the stents just get harder. Therefore, the session made me mentally stronger because you have to push through the pain whilst still concentrating on the exercise. This is a session we also do during the high school season and it mimics the tiredness one feels towards the end of a game when it is crucial one can mentally and physically perform to the same level as in the first 5 minutes."
"My favorite thing about No.1 Soccer Camps was the college ID camp at the end. It was awesome that after working all week to improve our game and condition ourselves, we were able to then show our abilities to actual college coaches. In addition, the standard of soccer was very high from the kids from camp, so it was great, competitive soccer."
Come Join us this summer and be apart of over 85,000 campers who have made their mark on soccer fields across the country!
No.1 For A Reason!