Congratulations to Head Coach Nick Roberts for leading the Urbana Men's Soccer Team to the finest season in Urbana soccer history. Members of his team include No.1 Soccer Camps staff coaches Nathan Jones and Ben Fitzpatrick.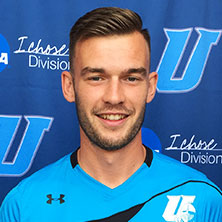 Jones, who was UU's co-captain and field general on the pitch this season, started 19 matches in goal for the Blue Knights. The 2015 All-MEC first teamer finished second in the conference in goals against average (0.81), save percentage (.803), and ranked fifth in total saves (61).
Jones was the main catalyst in UU's resurgence this season, leading the Blue Knights to their first-ever national ranking and a program record nine-straight wins. He posted seven shutouts, including a 1-0 win over nationally-ranked Millersville in UU's first NCAA Tournament contest in any sport.
Ben Fitzpatrick was named to the 2015 National Soccer Coaches Association of America (NSCAA) All-Atlantic Region Team, recently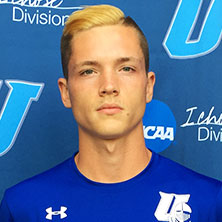 announced by the organization.
Fitzpatrick, a native of Hilliard, Ohio and co-captain of the Blue Knight men's soccer team, picked up first-team honors and has been recognized as an all-region performer by the NSCAA for the third straight year. The junior midfielder garnered All-MEC First Team accolades, while posting four goals and four assists this fall.
As one of UU's top scoring threats, Fitzpatrick most notably scored the game-winning goal during the first-ever NCAA Tournament game in school history, which ended up as a 1-0 victory over No. 21 Millersville.
Photos courtesy of Urbana University Men's Soccer
No. 1 Soccer Camps will be at Urbana University June 26th to 30th in 2016.  No. 1 Soccer Camps at Urbana University is under the direction of Regional Director Greg Andrulis, former head coach of the Columbus Crew, MLS Coach of the Year and current Head Coach at George Mason University. For more information about other locations and dates for 2016 No. 1 Soccer Camps, please visit our website atwww.no1soccercamps.com