NO.1 STAFF COACHES AWARDED 4TH CONSECUTIVE NCAA ETHICS AWARD
Albertus Magnus College Women's Soccer, with five No.1 Staff Coaches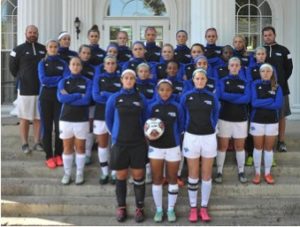 rostered, won it's 4th consecutive NSCAA Ethics Award this season. Given annually, the award recognizes teams that exhibit fair play, sporting behavior and adherence to the laws of the game. This is reflected by the number of yellow caution cards or red ejection cards they are shown by referees throughout the season based on the number of cards accumulated divided by the number of games played.
Albertus Associate Head Coach John Adams is also an Associate Director for No. 1 Soccer Camps West Conn. Albertus players Danielle Polvan, Maria Case and Lexi Mack have all been a part of the No.1 family as Staff Coaches at our West Conn and Salisbury, MDlocations for the past two years. In addition, Angelina Piccirillo and Bridget Judd are Staff Coaches at No. 1's Brewster Academy and West Connsites.
"I'm pretty impressed with it." Judd said. "I like the fact that the program has been recognized for the last 4 years for sportsmanship while we're still playing good, physical games. We're not a team to just roll over and take the punches but we're playing a fair game and putting up a good fight with opponents."
Albertus Magnus College is located in New Haven, CT and will host a No. 1 College ID Camp this summer in June.