The Case For camp Why Kids Need It Now More Than Ever
Change is a part of life. It is often directly related to survival and can enrich one's life in ways unexpected. Childhood is in essence a time of profound change and development. It is exciting and disquieting at the same time. When it comes to our children, we need to be sure that change is made for the better.
We've been so concentrated on the brain, we forget about the rest of our bodies. This change in focus has lead to an obesity rate that is unacceptable. Our kids are not as healthy as the generation before.
Families used to live in a community. We've lost that, keeping kids inside and losing a sense of neighborhood.
Add to that the fact that our kids stand to inherit all the economic, social, and environmental challenges we've created, and the legacy we have left our children and youth begins to look bleak.
So, how do we prepare our children with the skills and more importantly, the competencies they will need to tackle changes in our world?  We could start with a positive camp experience. A quality camp experience provides our children with the opportunity to learn powerful lessons in community, character-building, skill development, and healthy living — a meaningful, engaged, and participatory environment.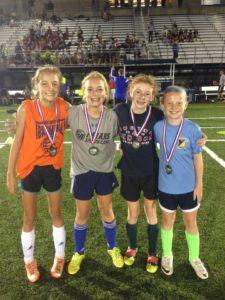 Camp promotes community. It creates this great space that shows kids how to live together and care for one another. There are norms and negotiation of boundaries; there are rules. Camp is a place where kids can "practice" growing up stretching their social, emotional, physical, and cognitive muscles outside the context of their immediate family. This is what childhood is supposed to provide.
Camp teaches critical thinking. We need to remember how important it is to be actively involved in the learning process, and camp affords that. We're going to need really strong problem solvers in the next century. We need the science, math, and biology, but without the ability to relate, connect, empathize, or inspire innovation, how will our kids be able to make a difference in the challenges now facing us?
The camp experience embraces the natural environment. While children have fewer and fewer opportunities to be outdoors, the camp experience advances the outdoor learning environment. As we become more concerned about saving the planet, we run out and make DVDs and videos about it. But the environment needs to be experienced to be appreciated. Kids need to catch tadpoles in the creek, wander among the trees, and feel the sun on their faces to understand the importance of those things. What happens to a generation that may grow up not seeing stars in the dark of the night?
Camp creates future leaders. The camp experience offers kids a close-up look at compassionate leadership through the camp director, counselors, resident nutritionist, and other camp personnel. And kids get loads of opportunities to practice being a leader themselves — song leader, lunch table leader, team captain, the list goes on and on.
Camp is an equal opportunity life changer. It addresses universal childhood needs not specific to a particular racial, ethnic, or socioeconomic group. Nobody is left out. It's all about childhood development.
Camp has a lasting impact. One of the greatest gifts you can give a child is a sense of success and achievement. Camp teaches kids how to be active participants, ask questions, ask for help, and try new things. They leave understanding that it's okay to feel a little uncomfortable sometimes, because that's generally what happens when you're getting ready to learn something. The camp experience translates back in real-world experience — in an "I can" attitude.
We need to advocate for our young people. We should promote opportunities for kids — give them camp experiences that serve as an antidote for the world's challenges. We need to recognize this is not a series of frivolous activities. We often think if it looks like fun it must be unimportant, but "fun" is a young person's "work" — to learn, to grow, to be productive, creative, and happy. If they don't do that work, they won't turn into healthy adults.
Article Courtesy of CampParents.org
No. 1 Soccer Camps, the first national camp of it's kind, was founded by Dr. Joseph Machnik in 1977. Since then, over 80,000 soccer players and coaches have attended No. 1 Soccer Camps. Our camps are conducted at exceptional facilities with quality accommodations and dining amenities.  With a camper/staff ratio of 1:8, we hire only the best coaches in the industry.
"I just wanted to send a HUGE thank you to you and your team. Stephen had an amazing time and is already talking about coming back next year. He really liked all the kids and coaches and can't stop talking about the whole experience. On a separate note, I have to praise his coach for the very thorough evaluation he provided. It obviously took a lot of time to prepare and included some great observations and suggestions for Stephen to work on to continue to develop his game. Well done and thank you so much!" – Alan, No. 1 Soccer Camps Parent
For more information about our 2015 Camps and Locations, visit us at www.No.1 SoccerCamps.com.