No. 1 Soccer Camps: A 39 Year Tradition of Excellence
The Early Years of US Soccer Camps
US based soccer camps originated in the middle to late 1960's.  The North American Soccer League (NASL) and later the Major Indoor Soccer league (MISL) and some early soccer on TV – Wide World of Sports and Soccer Made in Germany – developed interest in the game beyond the ethnic hotbeds of the major cities and industrial areas.
Junior soccer leagues sprung up across the continent wherever a NASL or MISL team played, but there was a dearth of coaching until US Soccer and the National Soccer Coaches Association of America (NSCAA) began spreading the game through weekend clinics and coaching schools. In the 1970's some of the better college and high school coaches started summer soccer camps.
By the late 70's, hundreds of camps operated throughout the country.  At these camps young players (mostly boys) received coaching at levels of competition they could not receive in their local communities.  Some camps became so popular that they were able to spread nationwide on the reputation of the coaching and the quality of instruction.
No. 1 Soccer Camps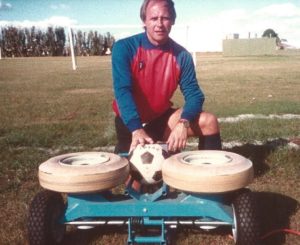 In 1977, three years after receiving one of the country's first "A" coaching licenses, Joe Machnik, then a coach at the University of New Haven, started the first nationally recognized camp for goalkeepers, No.1 Goalkeeper Camp.  In a few short years, No.1 grew to be the "in" place for goalkeepers, and the staff was a virtual "Who's Who" among American and foreign goalkeepers playing in both the Pro's and collegiate soccer realms.During this time, it was not unusual at that time to see a camp of 150 – 250 goalkeepers at a single No.1 location.  Within 10 years, however, Machnik and partner John Kowalski, came to the realization that the technical training, the how to perform a certain skill or technique, was not enough to advance the American goalkeeper.  There was a need for more traditional training to answer the questions of "when, where and why" as that training could only be done in the presence of field players playing in match like situations.  Hence, the founding of the Star Striker School, which became the fore-runner of the No.1 Striker Camp and an important component of the No.1 Soccer Camps program.By the middle 1990's, after the World Cup of 1994 played in America and the winning of the Women's World Cup and Gold Medal in Olympic Women's Soccer, youth soccer became increasingly mainstream and millions of American boys AND girls now played the game. While camps were still important at that time – and were centers of fine teaching and coaching –  the club system began to take hold in the US, and players could receive good coaching at the club, high school and college level.  By 2000, most established players were being identified early by the club system, and many camps ceased operation as the summer soccer camp was no longer the only place to receive fine coaching and a chance to play some real soccer.
No. 1 For A Reason
Very few summer soccer camps stood the test of time and continue to be successful today. No. 1 Soccer Camps is the shining exception. Diligently organized and professionally staffed, Machnik developed a unique program worthwhile for all players regardless of which side of the ball they play on. Goalkeepers, strikers, mid-fielders, defenders – all benefit from the intense training performed 30 yards in front of the goal.  Each lesson ends in a competitive environment with new skills in an atmosphere of trial and success. In addition, the assembly of campers develops a sense of camaraderie and teamwork in the camp environment culminating in all-inclusive 40 seconds on/40 seconds off interval training session that is a true test of each camper's dedication to the game.
The beauty of the No.1 Soccer Camps environment is the fact that a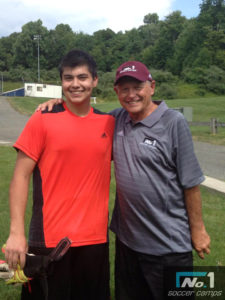 camper does not have to be the best player in order to attend.  Campers are organized in mobile groups, first by age, size, and ability with adjustments to the group structure and makeup being made each day as the week progresses. More importantly, campers develop an appreciation for the soccer's inner values as the intrinsic rewards of participation and success are constantly stressed.  At week's end, a thorough 75 point evaluation form is presented to each camper with a personal development plan citing areas to be worked on during and after the season.  Machnik credits the evaluation form as a critical factor in the decision parents make to return their campers to No.1 year after year.
A 39 year tradition of excellence, proven pedagogy and methodology, and professional coaching staff ensures No. 1 Soccer Camps remains the top soccer camp in the soccer industry for almost four decades. With a camper alumni list of over 80,000+ satisfied players, you will find former campers and staffers currently rostered on US National, MLS, WPSL, Division I, II, and III collegiate teams. One of the greatest testaments to our program is the number of former campers now bringing their children to camp thereby keeping the No. 1 tradition and family growing every year.
To learn more about No. 1 Soccer Camps or to register for one of our camp sites, visit our website at www.no1soccercamps.com.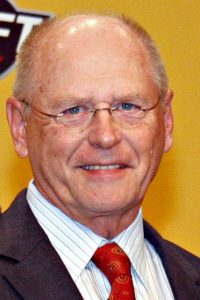 In addition to founding No. 1 Soccer Camps Dr. Joe Machnik's resume highlights include serving as Assistant Coach and Goalkeeper Coach for the 1990 USA World Cup soccer team and ranges to his post as Vice-President of Game Operations for Major League Soccer (MLS) and Assistant to the Commissioner for On-Field Competition. Machnik has most recently served as a FIFA Match Commissioner for World Cup Qualifying events throughout the CONCACAF region. Dr. Machnik has also been a successful NCAA Men's and Women's soccer coach and referee, as well as Director of Athletics at the University of New Haven. He is also currently the Director of Officiating Services for the National Premier Soccer League (NPSL), a NEC Women's Soccer Assignor, and a Soccer Analyst, Fox Sports TV. Most notably, Machnik has been a pioneer in the Soccer Camp industry in the US where his No.1 Soccer Camps is celebrating its thirty-ninth year.