Its Time For A Cultural (Ex)Change!
Are you passionate about soccer? Do you enjoy learning about other cultures? Are you ready for a new adventure this summer?
If you answered yes, No. 1 Soccer Camps has a program for you! Train with German coaches and players this summer and take your game to the next level with No. 1 Soccer Camps in Bad Blankenburg Germany. Male or female, goalkeeper or field player, if you are between between 10 – 18 years old and have an adventurous spirit, we want you to join us!
No. 1 Soccer Camps in Germany is a camper and staff coach exchange with one of the leading soccer camps in Germany led by former No.1 Soccer Camp staff coach Boris Kalff. Our camps are conducted on the pristine training pitches and beautiful facilities of the all inclusive Elite Sport facility in Bad Blankenburg.
Campers will be integrated into program of fussball-ferienschule.de for either five or nine days. Being exposed to the high level, technically sound German coaching scheme will add another dimension to player's soccer education and their ability to produce on the field. Comparing one's skills with and against the young German campers will provide an excellent gauge for campers and parents to evaluate a player's real abilities. Germany's leagues have among the highest goals per attempted scoring situation percentage in the world while at the same time producing countless numbers of excellent goalkeepers and Europe's (UEFA) most successful national teams at the U17, U20 U23 and full international levels.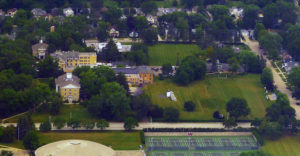 About the Facilities
The Sport Complex in Bad Blankenburg, Thuringia Germany offers only the highest quality training facilities and accommodations for all soccer campers. No.1 Soccer Camps' accommodations include a superior three star hotel, five beautifully maintained grass surfaces, one artificial turf with flood lights for evening sessions, and an indoor soccer field. The two, three and four bedroom apartments include a single bed, a shower, a TV, a desk and Wi Fi Internet for all campers, and The Sports Hotel offers an extensive buffet menu for all meals.
About the Coaches
All Coaches are licensed by our National Soccer Federation DFB. They adhere to the rules & guidelines for coaches in Germany. All coaches send in an official background check, signed by the state governance, before practicing with our campers. Fussball-ferienschule.de hires female and male coaches and abides to international standards for gender equality and equal employment opportunities.
Dates
July 11- 17th 2015 (7 Days)
Campers will leave the US Thursday, July 9th to arrive in Germany Friday, July 10
th
. Camp runs the 11th through 17
th
. Return date to the US is July 18th.
July 18- 24th 2015
(7 Days)
Campers will leave Thursday, July 16th to arrive in Germany Friday, July 17th. Camp runs the 18-24th. Return date to the US is July 25th.
July 11 – 24 2015
(14 Days)
Campers will leave Thursday, July 9 to arrive in Germany Friday, July 10th. Camp runs the 11-24th. Return date to the US is July 25th.
Frequently Asked Questions
1) Is the training all done in German or mixed in English? 
The training will be held in English and supported in German.
2) Are the girls and boys bedrooms and floors separated? Girls and boys sleep in separate hotel rooms (single, double or triple bedrooms). Girls stay on the same floor as the coaches. Boys are not allowed to enter girls' hotel rooms and vice versa.
3) What is a typical meal comprised of for lunch and dinner? All meals are buffet style, including among vegetables, salads, soups, entries meat etc. The kitchen is happy to accommodate individual orders upon request.
4) Are the supervisors females for the girls? Generally, our supervisors are female and male. For the US Camp, we will have a female supervisor delegated for all girls rooms.
5) Do the supervisors stay with them in the dorms? All staff members stay at the hotel and take responsibility for all kids.
Make this summer the most adventurous yet with No. 1 Soccer Camps in Germany. Learn more about the camp and register at No.1 Soccer Camps – Germany.