Athletic Trainer Pierre Soubrier brings a wealth of experience as a player, coach, and medical professional to No. 1 Soccer Camps
As a player, the French born Soubrier was a youth academy player for the professional Tolouse Football Club from ages twelve through seventeen. In 2005, he moved to the US and brought his talents to Scarborough High School helping his team win the state championship. During the same year, he also played premier soccer for Odyssey Soccer Club who captured the Maine Premier state championship.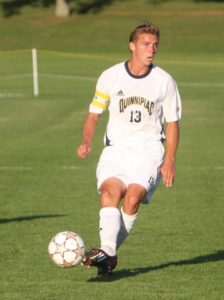 Soubrier was recruited to Division 1 Quinnipiac University where he was a four year starter and named All-Conference and All-Northeast Region First Team his Junior and Senior years. As a Junior, he led the team in goals and points as the Bobcats' center back and captained the QU team his Senior year. One of his greatest accomplishments as a player was beating Quinnipiac's rival Central Connecticut State University his senior year 4-3 in OT. Soubrier had two assists and the winning goal on a free kick as a center midfielder.
After earning his Bachelor of Science in Athletic Training and Sports Medicine from Quinnipiac in 2011, Soubrier took his first Athletic Training job at Yale University where he worked with the field hockey, women's ice hockey and light weight crew teams. Soubrier continued his academic career and recieved his Masters of Sports Rehabilitation and Therapy degree from London Metropolitan University this fall.
As a coach, the tri-lingual Soubrier began his coaching career in 2009 and coached for Emerson Soccer Academy and The Connecticut Football Club.
No. 1 Campers at our Brewster, Northfield and Blue Ridge sites received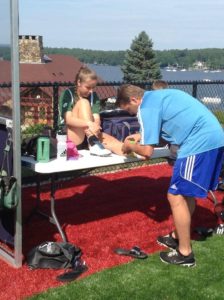 the benefits of Soubrier's on and off the pitch talentsin 2014.  From running sunrise PT sessions, to demoing drills to making sure each camper was properly cared for, Soubrier found a perfect professional fit with No. 1 Soccer Camps.
"I love working for No. 1 because of the excellence of its staff, and I liked the idea of traveling week from week to different states and places to coach kids," said Soubrier. "I love the fact that kids come back year after year the relationship we get to develop with them." A camper favorite at every site he worked, Soubrier embodies the No. 1 Soccer Camps staff member: a highly trained professional dedicated to the game and the next generation of players.
As a former D1 player, campers respect the treatment and advice he dispenses: "Remember that injuries happen and that it's not the end of one's career. Mental toughness is the key to go far in this sport!" Soubrier will be the Athletic Trainer at our Brewster, Northfield and Pomfretlocations in 2015.
For more information on No. 1 Soccer camps, click here.