No.1 Soccer camps is pleased to announce our newest site in virginia for 2015 at Richard Bland College of William and Mary under the direction of regional director Eddie De Souza.
Richard Bland College at William and Mary
The picturesque campus is located near historic Petersburg Virginia and is a vibrant and diverse living and learning community.  Richard Bland College is easily accessible from the surrounding cities of Richmond, Charlottesville, Hampton Roads and the Virginia Beach areas. The Richard Bland athletic facilities are considered among the best in the region. In addition to lush and abundant playing fields, there is a futsal court, a warm and inviting dining hall, a state of the art field house for use during inclement weather and new student housing.   Campers will be housed in on campus resident halls that offer apartment style living with suites that offer state of the art amenities. The rooms are all air-conditioned and offer in suite refrigerators, laundry, and wi fi.  Most rooms will accommodate 4-6 campers and roommate request are honored to the best of our ability. No1 Soccer coaches are strategically placed throughout the dorm area to ensure a safe and comfortable environment.
Campers will dine in the student cafeteria where healthy, nutritious meals will be served for all- you-can-eat dining. The Richard Bland staff will be on hand to provide nutritious, healthy and quality food service to serve each camper's individual needs. A salad bar and a sandwich bar are available during lunch and dinner to provide additional options to their daily entrees and sides. A variety of juices, water and milk are available with every meal. In addition the staff will provide a snack bar where campers may purchase pizza, snacks and Gatorade and other special treats.
No. 1 Regional Director Eduardo de Souza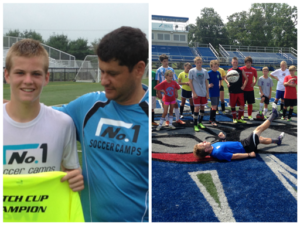 The No. 1 Soccer Camp at Richard Bland College will be directed by long-time No.1 Director Eduardo De Souza. Campers and parents may know remember him as the No. 1 Soccer Camps College Prep Director and Striker Director at our Urbana, Salisbury and West Connsites.
Coach Eddie was named the Head Coach of Richard Bland College in 2014. Prior to Richard Bland, he was part of the Longwood men's soccer program  for six seasons – three of those as the team's associate head coach.  In addition, he served as a coach at the Schulz Academy in Boca Raton, FL and was an assistant coach at Mercer University.  Coach Eddie has coached at the Zico Academy in Orlando, Fla. since 2010. In this role, he works with Arthur "Zico" Antunes Coimbra, a world-renown soccer player who led Brazil to three World Cups and scored more than 800 goals in his professional career. de Sousa began his coaching career at Sport Club International, where he worked primarily with the 'Junior' program, coaching the likes of Brazilian National Team members Rafael Sobis, Alexandre Pato and Nilmar Honorato da Silva.

de Souza is a product of Brazil's Gremio FBPA, and also has playing experience in Spain (Desportivo) and the United States (Tempest USL). He helped Gremio FBPA to a second-place finish in Brazil in 1992. Coach Eddie currently holds a US Soccer Coaching C License, in addition to his Brazilian B License.
de Souza earned a Bachelor of Arts degree in mass communication at Trevecca Nazarene University in Tennessee and a Master of Science degree in education at Mercer. He was a National Association of Intercollegiate Athletics (NAIA) All-American student-athlete at Mid-Continent University in Kentucky, helping the program to a pair of NAIA Final Four appearances before transferring to Trevecca Nazarene.
A native of Porto Alegre, Brazil, De Souza and his wife, Larissa, have a daughter, Livia.
For more information on No. 1 Soccer Camps Richard Bland College location or to contact Coach Eddie, Click Here
Click here to read a 2013 No. 1 article "Off the Pitch with Eddie de Souza"