With just seven No. 1 Soccer Camps sessions completed this summer and nineteen more to go, we present just a few of the testimonials from our parents on their children's No. 1 Soccer Camps Experience in 2014.
"I just want to say thank you for having Marc and Max at No.1 Soccer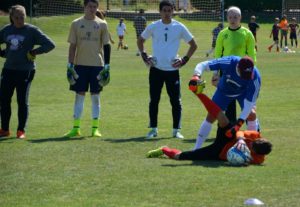 Camp in Urbana again this year. To use their words, they had an "amazing" time. Each year, I hear stories for days about their good times on and off the field. This year was even more special because of the World Cup games they viewed with the entire camp. The boys always agree that the competition level, and the soccer instruction are the most intense at No.1. Needless to say, knowing Marc and Max, they love it! I appreciate knowing they are fine with you and your staff and having the opportunity to hear their stories each year. This was their third year in attendance, and I am sure they will be back for more! Thanks again!"  – Susan, No. 1 Soccer Camps at Urbana Parent  

"I just wanted to share with you that Melanie thought this was the best soccer camp she's ever attended.  She said that she got so much more out of it than the ODP Developmental camp in May, so you and the coaching staff should feel especially proud!  The player evaluation form was much more detailed and individualized as compared to the ODP form.  Melanie has been given more specific insights on how to improve her performance this season and beyond.  The only thing she could think of to make it better would be more camps in Vero throughout the year to hone her skills. Looking forward to the next camp."
 – Cindy, No. 1 Soccer Camps at Vero Beach Parent  
"Allison really had a great week. The written evaluation seemed very intuitive. She came home and told her father 'Daddy, I should have listened to you all these years.  My coaches told me all the same things you say!' Thank You!" – Gillian, No. 1 Soccer Camps  at Urbana Parent  
"I just wanted to let you know that my daughter, Karlie S, had a fantastic time at camp this week. They enjoyed each session with your coaching staff and said that they really helped the girls to work on the skills they needed to improve. As a parent, I knew they were in great hands with your expertise and knowledge of the sport. I appreciated how you maintained safety first and brought the kids in during local lightning.  Karlie was so excited about being on her own and responsible for her equipment and arriving at each session on time.  We really enjoyed reading the coach's (Hector) comments as they were descriptive and right on target with Karlie.   So, thank you for a wonderful week where skills, strategy, study, and friendships were made.  We look forward to coming back next year. Have you considered a two week session where the girls could continue to practice and develop?  Not signing on for a new session but continuing the session.  I don't think they were ready to come home!  Thanks again for the time you and your staff have dedicated to our girls." – Monica, No. 1 Soccer Camps at Vero Beach Parent
"I wanted to let you know that the boys (Padraic & Liam) really enjoyed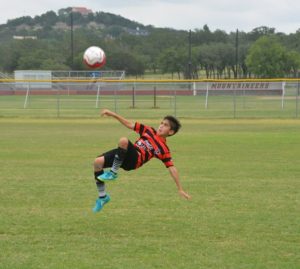 camp last week. They have attended No. 1 camps for years at several different locations. They said that the talent of the players was the best they have seen and enjoyed the experience. They want to attend again next year so we will see how the schedule works out. Thanks for putting on a great camp!" 
– Camille G, No. 1 Soccer Camps at University of Dallas Parent
And from one of our staff coaches: "Thank you for the opportunity to coach this past week. I enjoyed coaching for my first time and learning more about the game. I now understand why you have continued to do this camp for the past 21 years. The coaching staff was a fun group of people to be able to work with and learn from. I would love to come back and help out with camp next summer. I keep asking my parents why I didn't know about this camp when I was younger? I look forward to seeing you again next year and I will keep you updated on my college season this fall. I will also make sure to send you an email around January or February for information about next summer's camp. Thank you again for this opportunity and I wish you all the best in the next upcoming camps this summer!" – Katie, No. 1 Soccer Camps Staff Coach at Schreiner University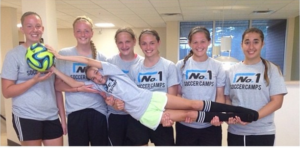 "Great week @no1soccercamps best shape in my life after #PT gonna miss all these people! #no1soccercamps" – Chelsie R Via Instagram
There are still spots available at several of our No.1 Soccer Camps locations for 2014. To find a camp near you and for further information, click here!