This week's article turns a spotlight onto one of our Regional Directors – Mike Potier. Mike has been with No. 1 Soccer Camps for over 21 years. With an impressive playing and coaching career, he embodies the professionalism, experience, and excellence that define our staff, coaches and directors at No. 1 Soccer Camps.
As a high school player, Mike played at Satellite High School in Satellite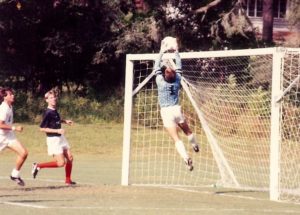 Beach, Florida from 1986-1989 during which time his team was the only boy's team in the school's history to reach the Final Four. In 1988, he was selected to travel to Brazil as a member of the USA Select team for international training and friendlies.   After high school, Mike continued his playing career at Division 1 Mercer University where he was a four year starter.  During his time in goal for the Bears, the team won the conference championship in 1992 going undefeated, and Mike was a three time All- Conference player.
The professional soccer world awaited Mike after college. He embarked on his professional playing career in the NPSL, CISL, USISL. He started with the Atlanta Magic during the 1994-1995 season – the same year the Magic won the League Championship and Potier was named the Finals MVP.  He was a First Round Draft Pick for the Washington Warthogs (1995) and went on to play with the 1995-1996 League Champion Cleveland Crunch and later with the Kansas City Attack.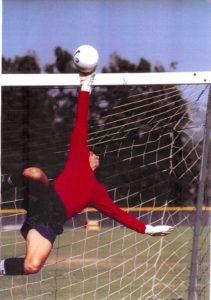 Mike's coaching career is just as remarkable spanning the high school, club, collegiate and professional level. With 17 years of high school and club coaching experience, he coached several State Champion teams. As Head Coach at Mount De Sales High School for the Boys Varsity team from 1993-1995, the team won two State Championships;  as an Assistant Coach/GK Coach for Satellite High School Girls Varsity team from 2001-2006, the team was a two time State Champ.  Mike has had success as a Head Coach at many clubs and in many age groups in Florida including: Satellite Beach Lightning U17 Boys in 1997-2000, Indialantic Force U18 Girls 2000-06, and SCUSC U18 Girls 2006-10. He is currently the Goalkeeper Director for Space Coast United Soccer Club as well as the Head Coach for the U15 Girls NPL/Elite Team.
As a collegiate and professional coach, Mike served as the Pre-Season GK Coach with the NY/NJ Metrostars (now NY Redbulls MLS), an Assistant Coach/GK Coach University of New Haven Women's Team (Div II), an Assistant Coach/GK Coach at Mercer University (Div I) Men's Team, and was a former trainer for the U-19 Women's National Team Goalkeeper.

A long time fixture at No. 1 Soccer Camps, Mike Potier brings his wealth of playing and coaching experience to No. 1 Soccer Campers each summer. Thousands of goalkeepers and field players have benefitted from his instruction, experience and firsthand knowledge of the game.
This summer Mike Potier is a Regional Director at five No. 1 Soccer Camps sites:  University of Dallas, Schreiner University, Vero Beach, Claremont McKenna College and Pacific University. For more information on these camps, click the above links or contact RD Mike Potier directly at mikepotier@no1soccercamps.com.