Danielle Polvan is a staff coach at No. 1 Soccer Camps at Salisbury, MD and West Conn, CT sites. This summer will be her second season working with No. 1 Soccer Camps. This May, Danielle was named Female Athlete of the Year at Albertus Magnus College in New Haven, CT where she will be a junior captain in the fall. Recently, No. 1 was lucky enough to catch up with Danielle between pick-up games and ask her a few questions.
No.1 Soccer Camp: When did you start playing soccer?

Danielle Polvan: I started playing when I was 6.
No.1:  What is your favorite soccer memory?
Danielle: Definitely scoring the winning goal in OT of the ECAC Semifinals against Roger Williams as a freshman.  They were ranked nationally.  I remember thinking during the corner kick this might be the closest we get to scoring and I took full advantage of it.  Not only was scoring the goal such a memory, but the love my teammates gave me after was so much more impacting.  That game is always in the back of my head during game days.
No.1:  Why did you choose Albertus Magnus College?
Danielle: I wanted to be close to home.  The coaches showed me how much they wanted me right from the beginning and their style of play seems to fit me so well.
No.1:  Where did you play club soccer?
Danielle: I played at South Central Premier for 7-8 years.  It helped me become more competitive at soccer!
No.1:  What's your favorite memory at No. 1 Soccer Camp?
Danielle: Probably teaching my group of girls some 1v1 moves they had never seen before.  Teaching other people what I have learned my whole life is something I love and can't wait to continue to do.
No.1:  Do you have any game day rituals?
Danielle: Nothing really crazy.  Left sock then right sock, left shoe then right shoe.  Coaches always gives us a pre-game quote and I put that inside my right shinguard.
No.1:  Why do you play?
Danielle:  It's my passion.  I can't think about anything else that takes my mind off something like soccer does.  I love going to practice, I love playing in games.  There isn't anything I don't like about the game.  I really couldn't imagine my life without it.
No.1:  If you could coach any team in the world, who would you coach?
Danielle: I wish I could coach the US Olympic team.  Be a part of that team in any way would be a dream.
No.1:  Who or what is your inspiration?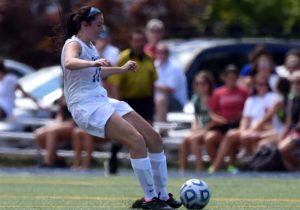 Danielle:  My mom, Lisa.  She is always such a huge supporter all of my life.  She keeps pushing me to strive to do better.
No.1:  OK Danielle, let's play a game of Pick 'Em.  I am going to give you a choice of 2 things and let's see which one you choose.
Danielle: OK, shoot!
No.1:  Country or Hip Hop?
Danielle:  Definitely Hip Hop
No.1:  Oreos or Chips Ahoy?
Danielle:  Chips Ahoy!
No.1:  Turf or Grass?
Danielle:  Turf
No.1:  Power or Placement?
Danielle:  Placement.
No.1:  Scissors or Step Over?
Danielle:  Scissors
No.1:  Last game now!  Some word association.  The pick-up game over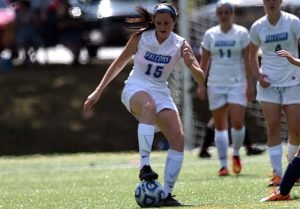 there looks like it's about to start.  I'll be quick!
Danielle:  Oh boy, OK!
No.1:  Number…
Danielle:  15
No.1:  Goalkeeper…
Danielle:  My teammate, Maria "The Wall" Case
No.1:  Soccer…
Danielle:  My Life
No.1:  Song…
Danielle:  Loft music – The Weekend
No.1:  Cartoon…
Danielle:  Scooby-doo
No.1:  Pressure…
Danielle:  Determined
No.1:  Thanks for taking time out of your day to talk with us.  Good luck in the next pickup game.
Danielle:  Thank you.  It was fun!  And I hope I keep my streak going, I haven't lost in 3 games today!
Danielle gets up from the bleachers we were sitting on, takes her ball and gets back into the game.  It was a mix of guys and girls, no goalkeepers and bags were used as goalposts.  It looked like they were counting megs as 3 points.  It was a fun game to watch.  Danielle is like any other soccer junkie.  A ball and cleats always in her car, she will choose soccer over work and she will watch every game of this summer Women's World Cup.  Through soccer, Danielle has found her passion and is running with it.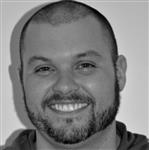 John Adams is No. 1 Soccer Camps Associate Director. A long time No.1 staff member, Coach John has served as Goalkeeper Director and Striker Director throughout the years. He is also currently the Associate Head Coach and Goalkeeper Coach for Women's Soccer at Albert Magnus College, where in 2013, his team reached the ECAC Finals. Adams will be directing and coaching at No. 1 Soccer Camps at West Conn this summer.