Tips For Tryouts: Players Make  An Impact
There are often more questions surrounding the club soccer tryout process than there are answers. How do I find club tryout information? How many should I attend? How will I get the coach's attention? US Youth Soccer sat down with Ronnie Woodard, current head coach of three-time US Youth Soccer National Championship qualifier Tennessee SC 16 (TN) and former head women's soccer coach at Vanderbilt University, who offered her answers to some of the most important tryout questions.
Woodard explains some of the first things coaches are looking for are if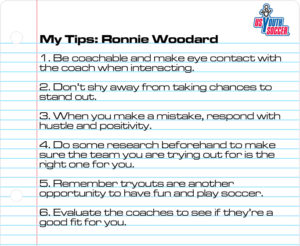 the player is coachable and exhibits a lot of effort, which can be displayed in a multitude of ways. "One of the little tricks in tryouts is to always keep eye contact with the coaches during drills and when the coach is giving you their input. You also should try to implement these points immediately," Woodard said. "A player's work rate on and off the ball are equally as important."
Woodard points out that specific clubs may be looking for a lot of different things, varying from strength in the air to finishing in the 18-yard box, but the one consistency coaches are looking for is players who provide special moments that turn heads.
"Coaches are looking for players to make an impact and get their attention," Woodard said. "I think it is very important for players to get the coaches to notice, and it isn't always easy."
It is inevitable that a player is eventually going to make a mistake, which Woodard acknowledges and admits good coaches aren't going to be concerned with a mistake, but rather how the player reacts afterwards.
"No one is perfect, and when you make a mistake coaches want to see how you respond. You can put your head down and stress out, or you can go get the ball back," Woodard said. "I recommend turning around and getting the ball back."
One recommendation Woodard has is for players to approach the tryout thinking about the opportunity given to them as opposed to the ramifications of not making the team.
"It is always difficult for young players especially to come into an environment with new potential teammates and establish worth to a group in a short period of time," Woodard said. "If you remain in the moment and keep focus on the task at hand — but also remember you have a fun opportunity to play good soccer and enjoy it — then you will feel more comfortable."
Woodard isn't the first coach to emphasize enjoying the game when approaching tryouts. Both Mark Ryan (Loudoun Soccer) and Jimmy Obleda (Fullerton Rangers) have emphasized enjoying the game as a crucial element to developing and performing well. Another thing the three coaches agreed on was the importance of doing research beforehand when deciding which clubs to attend tryouts.
"I don't think you want to attend four different tryouts and just see which ones you make," Woodard said. "Rather you need to do a little bit of research on the team, coach and the league to see if it fits that player."
Assessments at tryouts can go both ways. While the primary purpose is for coaches to measure players' abilities, Woodard looks to tryouts as one of the best ways for the players to evaluate potential coaches.
"You want a coach that is fair and well respected in the soccer community. Coaching is synonymous with teaching, so while it is really important to have a good coach with high standards, you also want a great teacher of the game," Woodard said. "You also want a coach with tremendous compassion for their players and strikes a good balance between being someone you can trust and someone who will push you to be the best player you can be."
In the end, Woodward insists that while natural ability is critical, being receptive to coaching also goes a long way.
"Coaches are looking for the complete package. They want hard workers, technically gifted and tactically skilled player," Woodard said. "However, those can be difficult to come by, especially at an early age. Coaches are more willing to invest in a player who is easy to coach, and you can prove that in tryouts by going out there giving it your best."