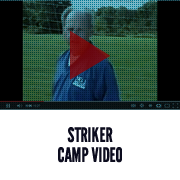 We call it the No. 1 Field Playes Camp, because we train all positions, all players will benefit from the "Go to Goal: curriculum which concentrates on play in the final third of the field on either side of the ball.
Each camper will learn to attack and defend the various tactical situations which challenge the complete player in today's all inclusive modern game. Attackers defend and defenders attack with over 1,000 "Go to Goal" opportunities in a typical camp week.
Learn the various techniques and strategies in placement and long range shooting, near and far post runs, bicycle kicks and more.
Become a top goal scorer! Learn to defend and come forward to take advantage of goal scoring situations at free kicks and corners. Hone your penalty kick skills. Become the No. 1 player on your team.
Among the topics which are included in the No.1 Striker Camp program at the various levels are:
Placement shooting
Receiving Balls
1v1 Fakes and Feints
Chipping & Lobbing
Near and Far Post Runs
Goal Scoring Theory (Lecture)
Target Play
Penalty Kicks
Taking Players On
Footwork & Speed Training
Tackling & Dispossession Play
The Art of Flying: Dutch Tournament – Bicycle Kicks & Side Volleys
Dribbling for Speed
Breakaway Technique & Tactics
Shootout Competition
Long Range Power Shooting
Small Group & Combination Play
Attacking Numbers Up & Down
Interval & Pressure Training
Recognizing & Exploiting Keeper Weaknesses
Striker Wars
Shootout Competition- 35 Yards
Penalty Kick Shootout
Dutch Tournament
World Cup Tournament