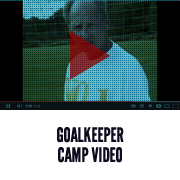 The modern Goalkeeper has increased demands to be a more complete player than ever before. The responsibilities of the goalkeeper extend far beyond just standing between the posts. To be effective, goalkeepers must participate in the prevention of the development of goal scoring chances inside and outside of the penalty area. All No.1 Goalkeeper Camps will offer our unique and pertinent, Extending the Range lessons as part of an all-inclusive goalkeeper experience. From being the first line of attack to the last line of defense. The No.1 Soccer Camps has always been at the forefront of the evolution of this position. Greater emphasis will be placed on becoming a player who understands and can execute the modern demands of Goalkeeping. Saving goals-from shot stopping to dealing with crosses, from distribution and organizing the defense is just part of the No.1 Soccer Camps Goalkeeper experience.
At the No.1 Goalkeeper Camp, goalkeepers will learn the technical skills needed to be successful and tactical savvy from playing in the goal in game like situations, under the guidance of a goalkeeper coach, coaching the player from in the goal and not from the sideline.
Each camp lesson finishes with game like situations combining the strikers and goalkeepers. Using small sided games in front of full size goals keeps the goalkeeper involved the entire time.
Become the No.1 goalkeeper on your team, in your league.
Among the topics covered at the various levels of the No.1 Goalkeeper Camp are:
Play On the Line
Diving: Low, Medium, and High
3 Dimensional Angle Play
Tipping Over the Bar
Dealing with Crosses
Back Pass Rule Play
Breakaway Technique & Tactics
Interval & Pressure Training
Initiating the Attack
Fitness Training and Testing
Reading the Game
Penalty Kicks
Play Off the Line
Boxing: One & Two Hands
Double Goal Theory – – It's the feet that get the hands to the ball.
Footwork
Penalty Kicks
Setting the Wall & Defending Free Kicks
Goalie Wars
Shootout Competition – 35 Yards
Penalty Kick Shootout
World Cup Tournament