Let's Hear it for the Dads!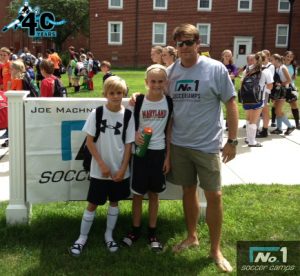 He was your first coach, your personal chauffeur and your biggest fan. This Father's Day, we are thanking all of the No. 1 Dads.
No. 1 Soccer Camps has trained generations of soccer players all across the US. Every year, former campers return to give their children the one-of-a-kind No. 1 Soccer Camps experience. These parents know first hand the impact No. 1 will have on their child's game and personal development.
"I went to Joe Machnik's camp back in 1983 (and it) completely changed the way I played.  I can attribute my recruitment to a D1 school directly to that training.  I still have my evaluations." – Robert W 
Father's Day Savings
To thank all of the dads, No. 1 Soccer Camps is offering a Father's Day Discount now through June 19, 2017.
Receive $50 off when you use the code DAD$50 for any of our 2017 College Showcase ID, College Prep, Senior or Junior Academy Camps. 
Receive $25 off when you use the code DAD$25 for any of our 2017 Youth Academy Camp.
Codes are valid through June 19th.
For No. 1 Soccer Camps 2017 location and dates, please visit www.no1soccercamps.com